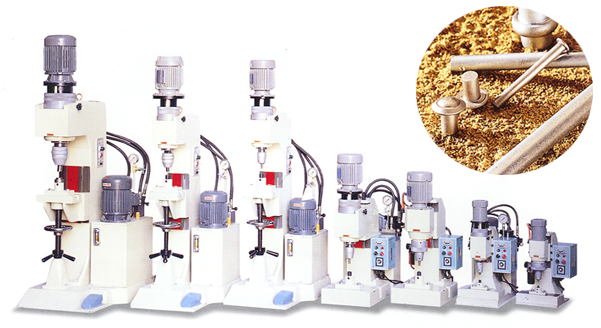 The remarkable riveting machine we have been making since 1968 are based on our many years
of experiences and continuous developing and researching. From traditional impact machine to air
and oil Pressure machines are fully made by our professional technology and enthusiastic service.
The spirit : safety and reliability make these mechanical products that you can rely on.
YOU ARE NO.
Features :


Can be operated manually or automatically.


The height of the unit structure can be adjusted by a mechanical adjusting device.


Rotating type rivet-mold changing, very simple.


Many kinds of rivet molds available for different riveting.


Special hydraulic-loop design construction.


No experienced technicians can operate the unit.


Continuous hydraulic performance, maintains normal temperature.


With a timing device, micro-processing can be easily handled.


Quiet operation.


Can be freely adjusted at any time.


With a precise micro tester to control impact force.


High capacity and efficiency, the unit can process.


Continuously operate under 45oc
Add : 70 Anlin 2nd st., Yenchao Hsiang, Kaohsiung Township, Taiwan, R.O.C.
Tel : 886-7-6167260~1
Fax : 886-7-6167262


E-mail : hochin.tfl@msa.hinet.net
Privacy Policy